Expert advice and customer satisfaction
Over 20 years' experience
Fast quoting turnaround
Fast reliable service
Affordable pricing
Requirements & Procedures
Roach Demolition recommends allowing sufficient time to plan for your demolition works. There are many steps involved before any demolition work can commence.
The information contained in this document, outlines the requirements and procedures necessary for demolition of any building/dwelling.
Demolition Melbourne – House Demolition Services
in Melbourne's Eastern Suburbs
Call us on 03 9874 7774 for your specific project and location
Roach Demolition provides our customers with over 20 years' experience within the house demolition industry. We specialise in residential demolition Melbourne, asbestos removal Melbourne and excavation works Melbourne including permits for your project and tree removal and management. If you have a commercial project, please call us for a chat.
Roach Demolition performs each project with an emphasis on safety, our client's budgetary requirements and taking into consideration the specific needs of each individual client. All demolition works are carried out in accordance with Australian Standards, OHS Codes and Regulations and Codes of Practice. We are located in Ringwood and provide demolition services throughout the eastern suburbs and surrounds.
At Roach Demolition, we are committed to providing a reliable, affordable and safe demolition service. We are a licensed demolisher and registered building practitioner, fully qualified and carry the necessary insurances to carry out all of our demolition works.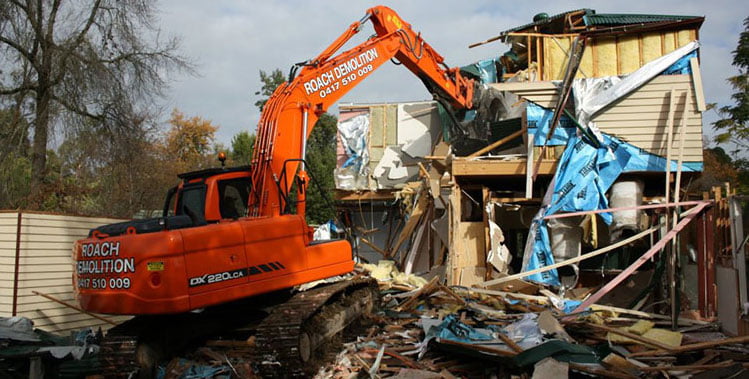 "I just wanted to thank both you and Darren for an excellent service
and helping us through the various steps for the demo.